Female infertility is a major public health concern worldwide. In some cases, sexually transmitted diseases (STDs), also known as sexually transmitted infections (STIs), can increase a person's risk for infertility.
Many cases of tubal factor infertility arise from pelvic inflammatory disease (PID) caused by untreated STDs, such as chlamydia. Clinicians are in a powerful position to help patients understand more about the STDs that may cause infertility, as well as other diseases that may cause infertility in females.
Can Chlamydia Cause Infertility?
An STD caused by pathogenic bacteria such as Chlamydia trachomatis can lead to PID when bacteria travel up the reproductive tract and cause inflammation and scarring. PID is one of the primary causes of tubal factor infertility (TFI), according to a study published in The Journal of Infectious Diseases. The study found that chlamydia infection led to PID in roughly 35 percent of cases in women aged 16 to 24 years, and in 20 percent of women aged 16 to 44 years.
Another study cited by the Centers for Disease Control and Prevention (CDC) estimates a 4.4 percent prevalence of self-reported PID among sexually active women ages 18 to 44. The study, which referenced sample data from a National Health and Nutrition Examination Survey, concludes that there is a link between PID and previous STI diagnoses.
Chlamydia and Infertility: Who Is at Risk?
To better understand the connection between PID, chlamydia and infertility, one study published in the British Medical Journal followed a group of women who were diagnosed with chlamydia and a group of negative controls, all of whom participated in a chlamydia screening trial for eight years. The authors found that chlamydia-positive women were at a significantly greater risk of developing both PID and TFI.
The strongest risk factor for PID progressing from chlamydia was if the STD was symptomatic. The greatest risk for PID progressing to TFI in these women had to do with age; participants who were younger than 20 years old upon the first infection were considered more at risk than those 24 and older.
The CDC reports that an estimated 2.86 million cases of chlamydia occur in the United States each year. When it comes to specific STDs that may cause infertility, 10 to 15 percent of women who contract chlamydia will develop PID. According to the American Journal of Obstetrics and Gynecology, approximately 15 percent of women with PID will develop TFI, which is cited as one of the most common causes of infertility and affects roughly 30 percent of the 1.5 million infertile women in the U.S. Many cases of TFI occur in women who have asymptomatic or minimally symptomatic PID.
Use of Ultrasound to Evaluate Tubal Patency
An accurate assessment and evaluation of tubal patency is a fundamental part of a diagnostic work-up for women with tubal factor infertility, according to the British Journal of Radiology. 3D/ 4D hysterosalpingo contrast sonography (HyCoSy) and hysterosalpingo foam sonography (HyFoSy) are increasing in popularity as reliable methods for evaluating tubal patency.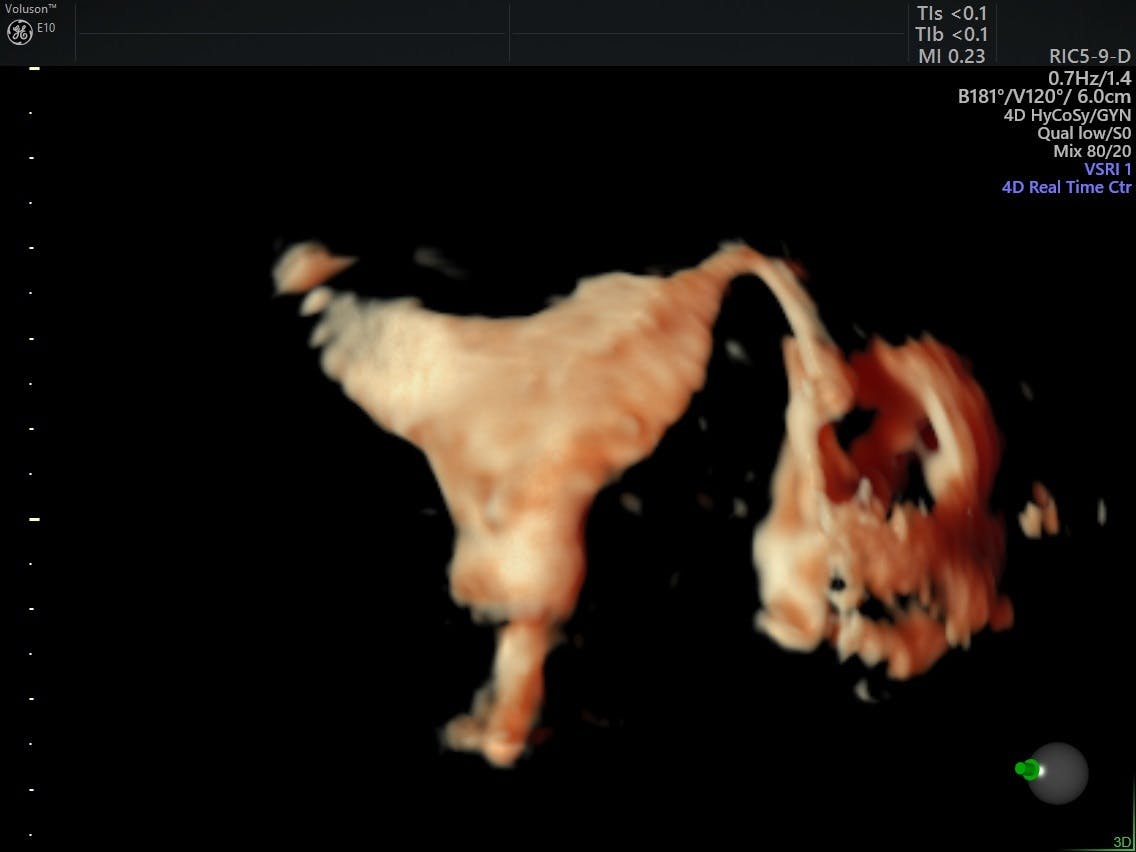 A meta-analysis of several studies in the British Journal of Radiology showed that using 3D/4D HyCoSy for assessment of tubal patency results in high diagnostic accuracy. The overall sensitivity was 0.92, and specificity was 0.91. Unlike other tubal assessment methods such as laparoscopy and dye intubation, ultrasound does not require iodinated contrast media, anesthesia, operation risk or radiation exposure. HyFoSy was found to be especially patient-friendly when compared to hysterosalpingography.
In order to prevent instances of PID, it's important for clinicians to discuss STDs that may cause infertility with their patients, especially those of reproductive age. The sooner PID is diagnosed, the better chance a patient has to head off any potential long-term damage.