Anorexia nervosa can cause lasting health effects for young women, especially when the condition and its risks are not properly addressed. By first recognizing adolescents and young women with eating disorders and then instituting proper management in coordination with other specialists, OB/GYN clinicians can work toward the best patient outcomes.
Pelvic ultrasound, whether transvaginal or transabdominal, is a key tool for gynecologists to monitor growth, reproductive development and fertility in patients recovering from anorexia. Many women who recover from anorexia are able to conceive and carry out healthy pregnancies.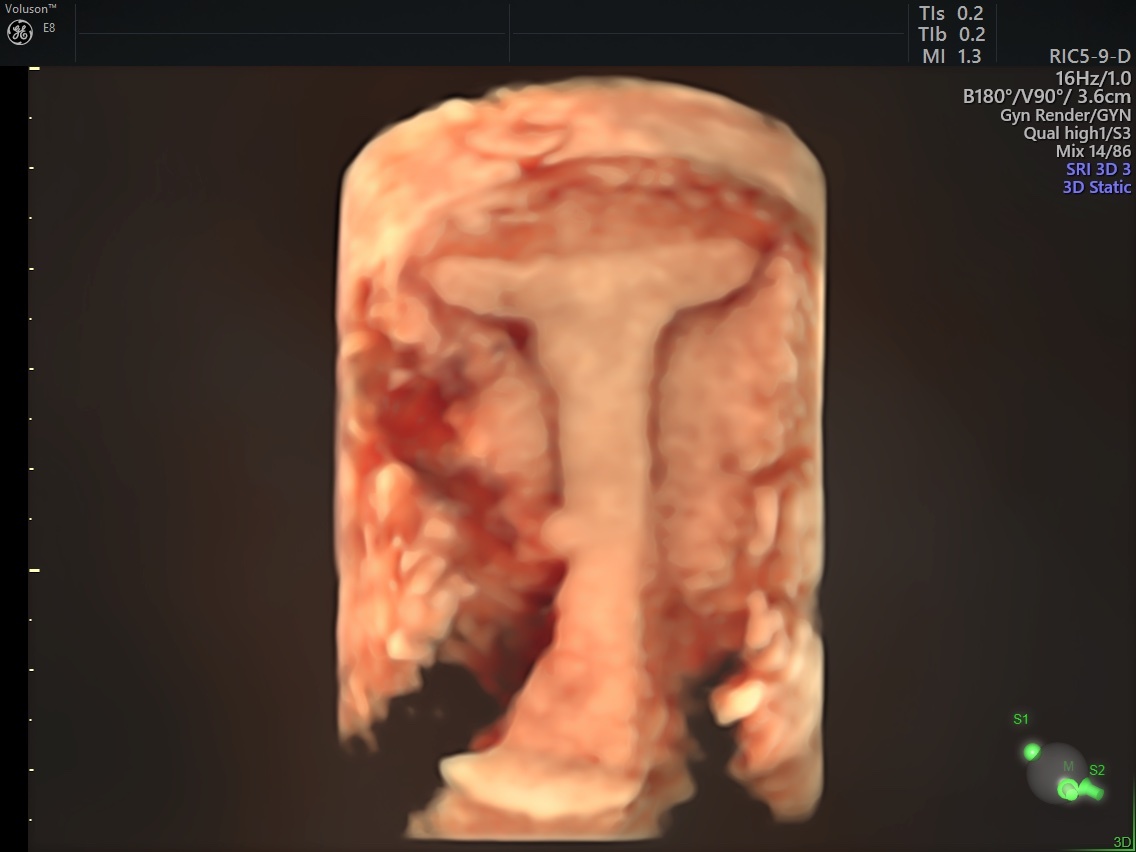 3D Uterus, Voluson™ HDlive™ imaging technology.
Risks for Women With Anorexia
Anorexia can affect people of any gender, age, race or economic status, but a high proportion of patients are women between the ages of 12 and 25, according to the University of Rochester Medicine Child and Adolescent Eating Disorders Program. This eating disorder is characterized by difficulty maintaining a healthy weight, calorie restriction, excessive exercise and, frequently, a distorted body image. Those with anorexia tend to have a very low body mass index (usually below 17.5) and often experience ovulatory disorders or stop menstruating altogether. Approximately 66 percent to 84 percent of women with anorexia have amenorrhea, according to research published in the International Journal of Eating Disorders.
Anorexia in young girls can lead to delayed puberty, dysfunctional ovulation, problems with endometrial development and impaired bone growth. This is thought to be due to a drop in leptin, which leads to a reduction in GnRH, according to the International Journal of Eating Disorders study. Proper treatment and a return to a normal body weight can reverse these problems for most people.
Monitoring Anorexia
If you suspect anorexia in a patient, the first step is to screen for the condition. The Eating Disorders Examination Questionnaire and the SCOFF questionnaire are standardized assessment tools that can help you evaluate patients and ensure they get the proper care.
Standard treatment for anorexia involves limited activity and increased caloric intake to raise BMI. However, this treatment tends to lead to more fat accumulation around the waist, which can exacerbate issues with self-image. Using ultrasound for body composition provides more specific parameters for a patient's health. Measuring the layer of fat thickness of eight specific sites, including the upper abdomen, lower abdomen and calf, gives a clearer picture of the patient's body changes during therapy, according to a study in Clinical Nutrition.
For gynecologists managing a patient being treated for anorexia, pelvic ultrasound adds a wealth of information beyond a simple weight-for-height measurement. Standard measurements for girls and women to meet their ideal weight do not always account for what is happening in the reproductive organs, which means weight alone does not predict a return of menses. Some women who reach their target weight still do not see their cycles return. Self-reports of menstruation can be flawed, as women may report spotting or irregular bleeding as a period.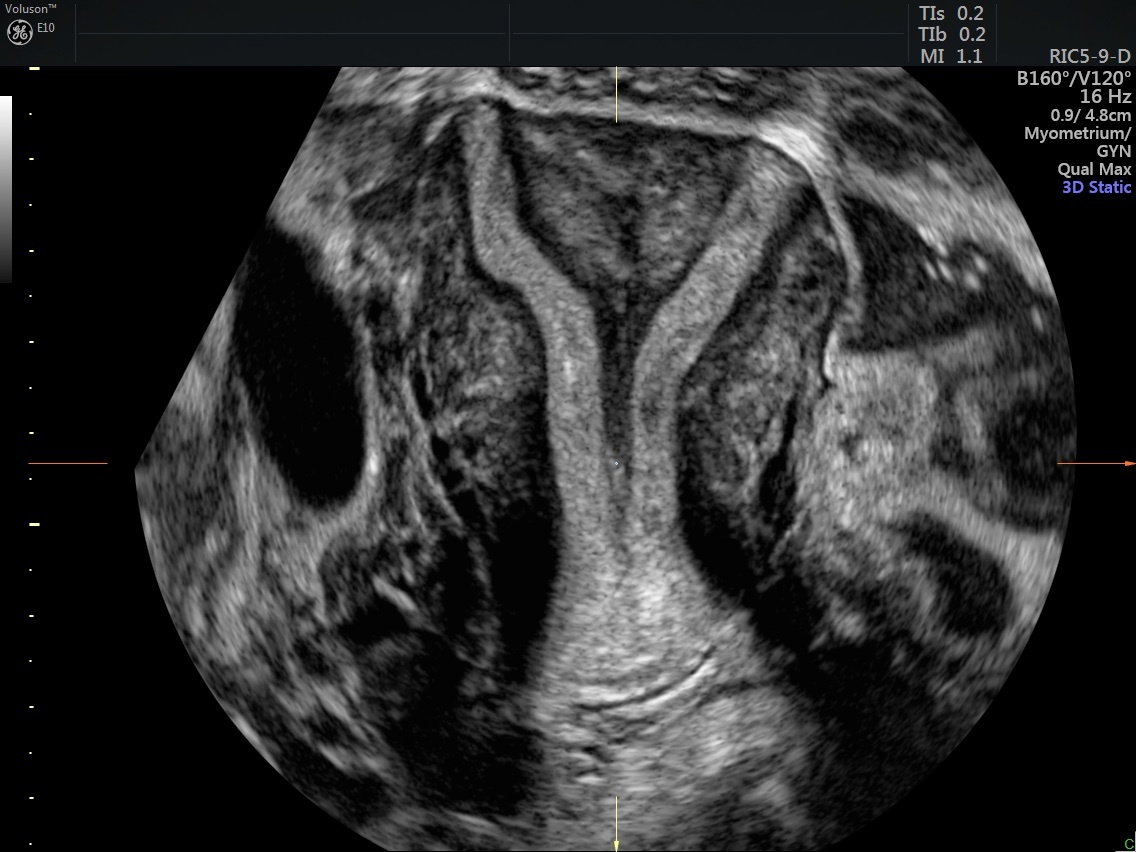 Uterus, Voluson™ ultrasound using RIC5-9D transvaginal probe.
Pelvic ultrasound can also ease some of the anxiety for your patients by reducing the need to stand on a scale and address weight gain. Ultrasound provides an objective measure of an individual's recovery and growth.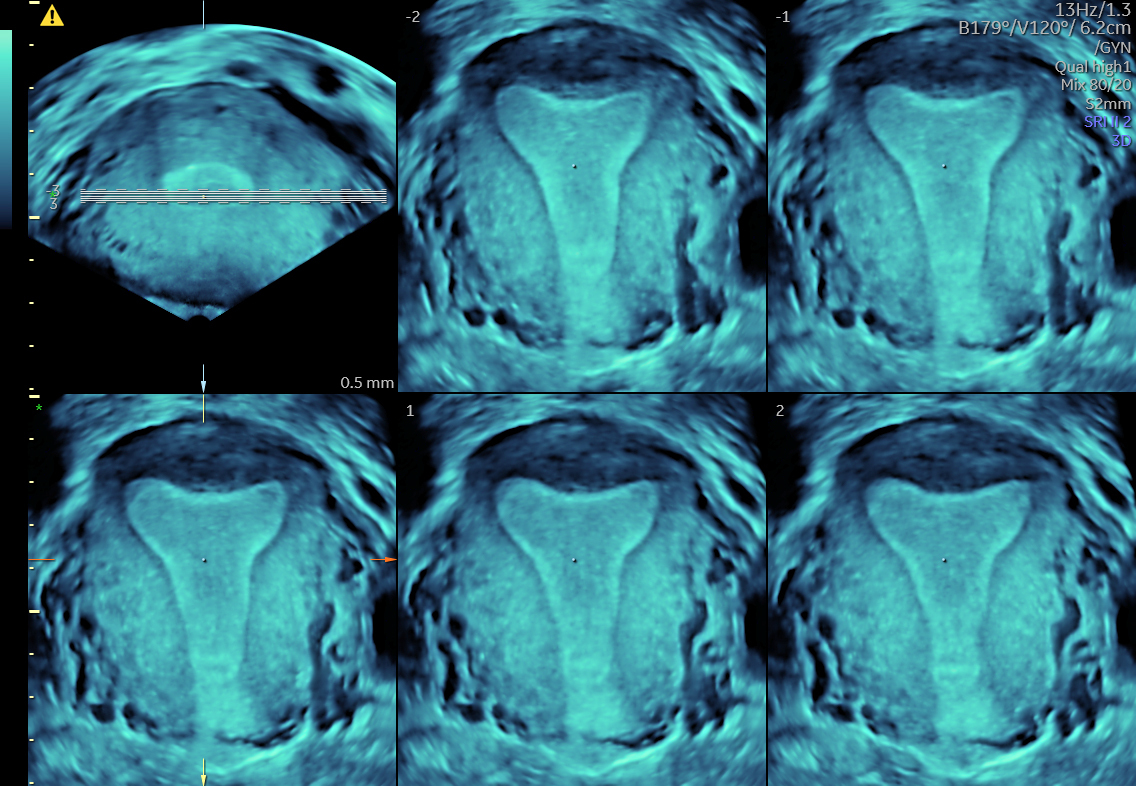 3D Uterus, Voluson™ SWIFT.
A transabdominal ultrasound measures uterine length, endometrial thickness and ovarian volume and also identifies whether any cysts are present. Polycystic ovarian syndrome may be present in adolescent patients, and this could be another reason why menstruation is not returning. An ultrasound also gives a clear picture of pelvic organ maturity. Women with lower ovarian and uterine volumes may experience a longer duration of amenorrhea. The ultrasound results can also inform the weight gain targets based on reproductive organ maturation.
3D Polycystic Ovary, Voluson™.
Some women with severe weight loss from anorexia may experience regression in the uterine length, ovary size and endometrial stripe. This can be concerning for future fertility implications and should lead to a discussion of the long-term effects.
Fertility and Anorexia
Young people who are struggling with anorexia or who have had it in the past may begin wondering about their fertility. Those with anorexia do have higher risks of infertility and poorer obstetrical outcomes. However, women who have recovered and are at a healthy weight often are able to become pregnant. It is important to understand an individual patient's stage in the journey to recovery.
Counsel patients on the risk of becoming pregnant while anorexic, which can include an increased risk of miscarriage, low gestational weight gain and a newborn that is small for gestational age, according to a study and survey in Fertility and Sterility. When still struggling with anorexia, patients may take longer than six months to become pregnant.
Recovering healthy eating habits and body weight is the best way to regain fertility and have good pregnancy outcomes. If a patient is recovering but still experiencing infrequent menstruation, they may need medications to stimulate ovulation. Studies have found that women who are at a healthy weight and menstruating, despite a history of anorexia, do not have an increased risk of infertility.
Another point to note is that women with anorexia have higher rates of unplanned pregnancy, possibly due to the absence of menstruation. Be sure your patients understand that although they may not be menstruating, they could still be ovulating.
Best Practices for Eating Disorder Screening
One key practice for OB/GYNs is to screen any patient who seems to be at risk of an eating disorder to ensure they can receive appropriate treatment. In the survey of fertility specialists published in Fertility and Sterility, the majority agreed that it was important to screen for eating disorders and to ask about exercise behaviors; however, in practice, only 35 percent of doctors actually assessed patients during preconception visits. Screening patients during an office visit or during a discussion about future pregnancy can ensure that they are referred to appropriate specialists such as a dietitian or counsellor.
For patients who have already informed you they have an eating disorder, you can use pelvic ultrasound to monitor their recovery. Transabdominal ultrasound provides an objective measure of pelvic organ maturity and can help predict the return of menses. Ultrasound in combination with weight targets can provide a goal for beginning preconception planning.
It's important to know when to refer. Some women in recovery may still struggle to get pregnant, and if a patient has tried to conceive for more than 6 months with no success, it may be time to refer them to a fertility specialist.
Once a patient recovering from anorexia successfully becomes pregnant, use ultrasound to monitor them throughout pregnancy. As the weight adds up during pregnancy and can be difficult to lose immediately afterward, your patients with a distorted body image may be at risk of returning to disordered eating habits. Continue with screening tools or referrals to a counsellor to ensure your patients are maintaining a healthy body image and applying healthy eating habits throughout pregnancy and the postpartum period.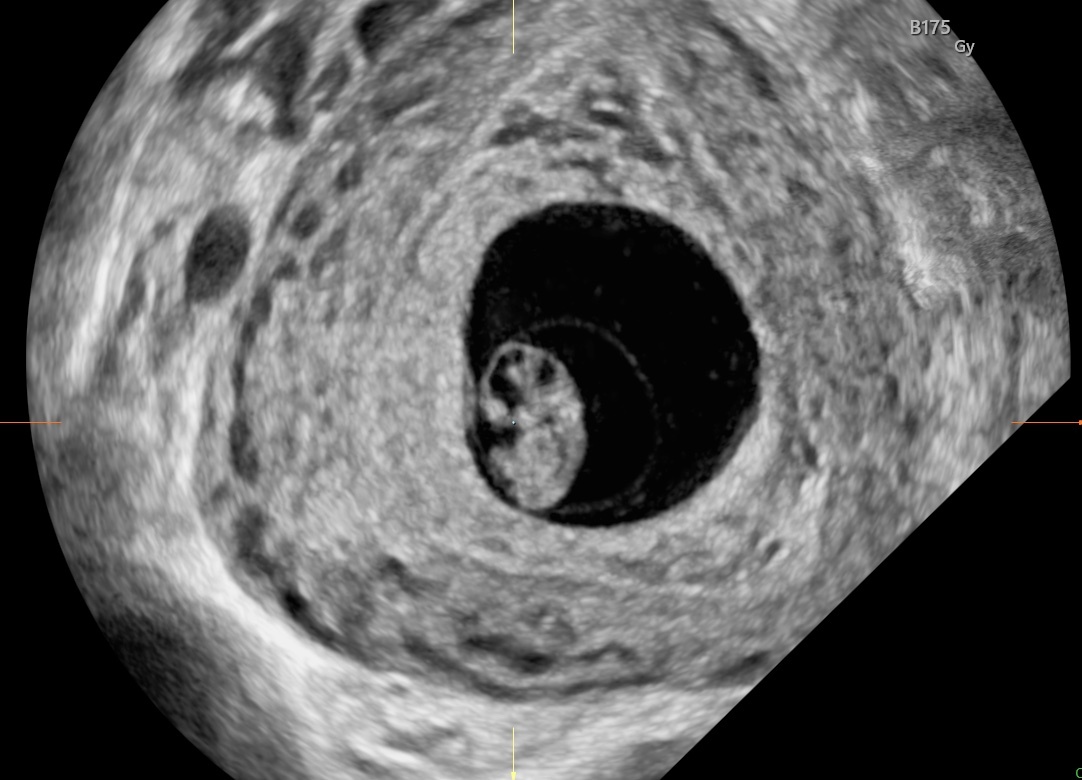 Eight-week embryo, Voluson™ UltraHD imaging technology.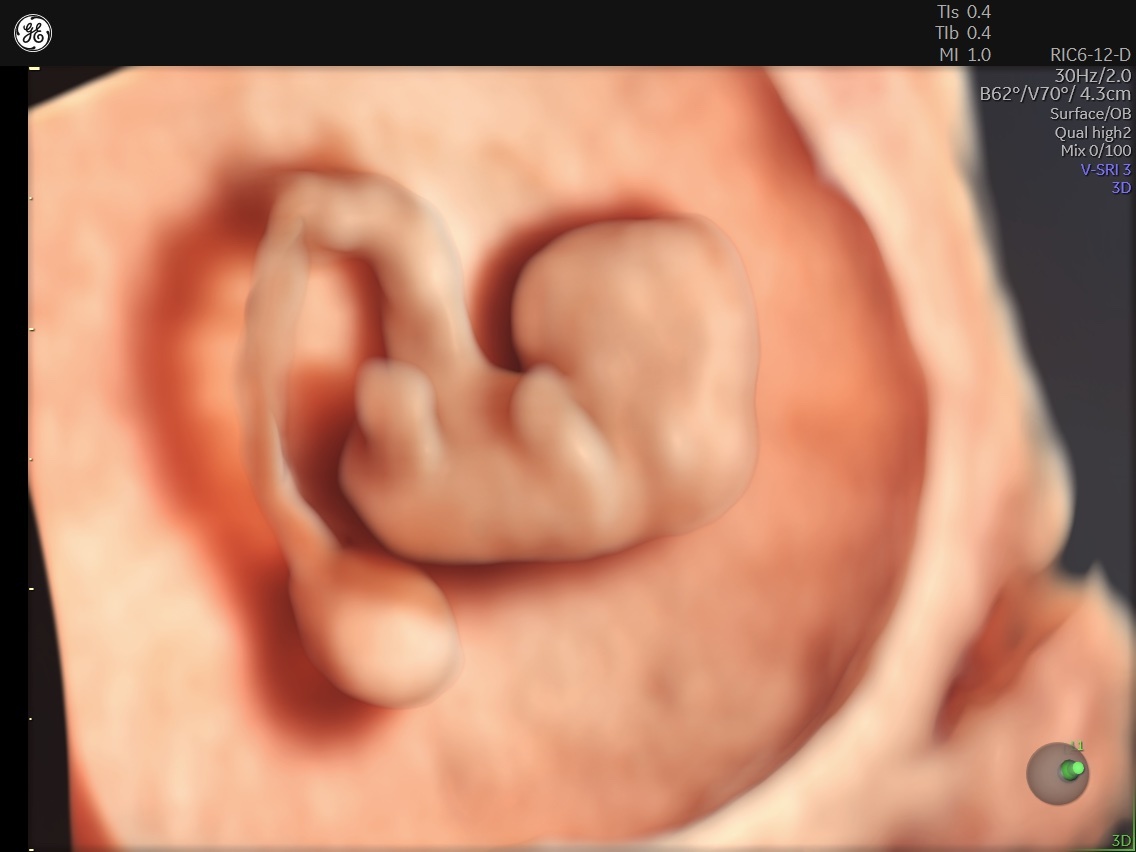 Eight-week embryo, Voluson™ UltraHD imaging technology.
With recognition, proper assessment and treatment, women with anorexia can have healthy pregnancies and healthy newborns. Provide optimal management and screening throughout recovery, preconception and conception to keep your patients on the right track.