Intrauterine device (IUD) insertion does not have to be a blind procedure that causes anxiety for the patient or the clinician. Today, advanced medical technology simplifies the practitioner's work and minimizes the complications associated with the process. The end result is a patient better served.
With those new technologies and tools at your disposal, what is the best way to implement them into your practice to maximize their value to the patient? Just keep it simple, surgeon! That is my version of the KISS strategy for streamlining IUD insertion.
With the right tools to provide accurate and detailed imaging during the insertion process, clinicians can operate with confidence, and patients can put their worries to rest. The key is to use ultrasound as a guide.
The IUD Insertion Process
Even the most experienced clinicians encounter IUD insertion complications. For instance, uterine perforation occurs about once in every 1,000 insertions, according to research published in Dove Medical Press. Fortunately, you can take steps to reduce this and other risks associated with IUD insertion.
Begin by conducting a transvaginal ultrasound to evaluate the position of the uterus, confirm the presence of myometrium and intrauterine pathology, examine the cervix and rule out adnexal pathology.
Next, perform the insertion according to the IUD manufacturer's recommendation, which may vary from vendor to vendor. It is a good idea to administer a transabdominal ultrasound to improve accuracy during this step.
Finally, once the IUD is placed, use the 3D coronal fundal view to confirm that it is positioned properly within the uterine cavity. Once the procedure is finished, attach the 3D IUD picture to the patient's chart and store it for documentation.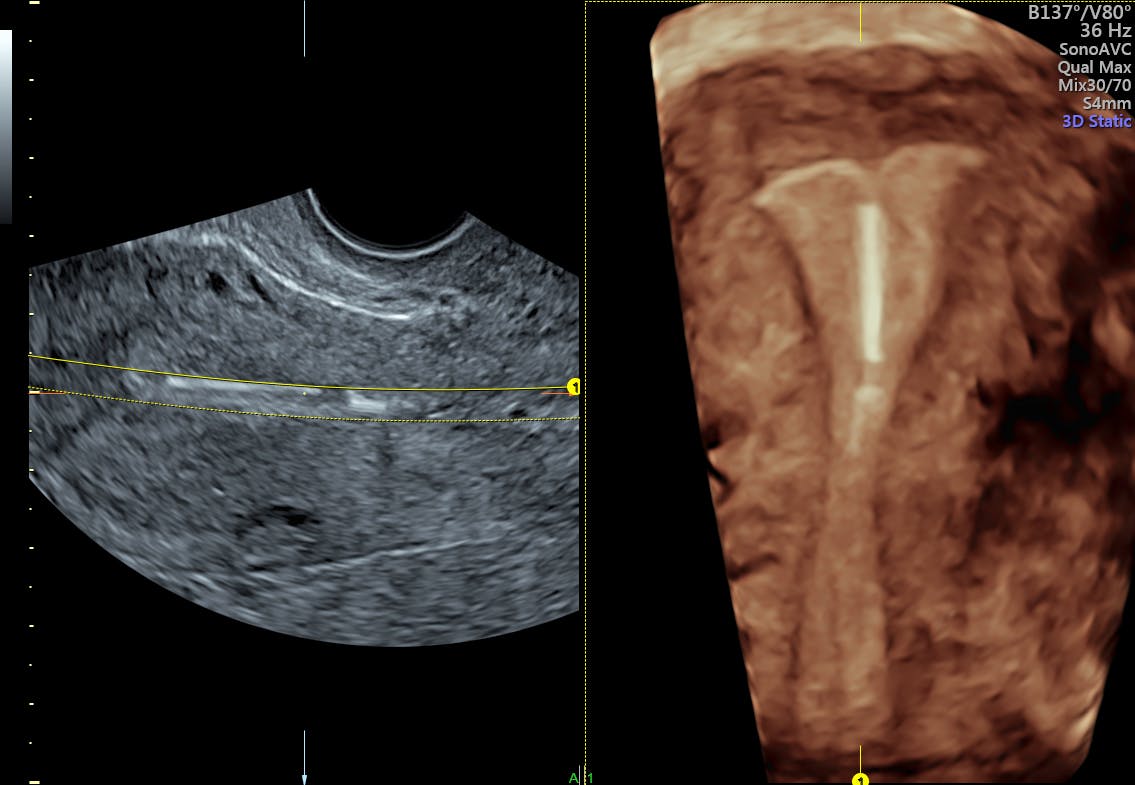 3D Ultrasound Makes a Difference
3D imaging is particularly critical to that final step. While some IUD-related problems can, on occasion, be detected with a standard 2D display, only the 3D coronal view guarantees a picture of the entire IUD every time.
Features such as SingleView and OmniView improve visualization of gynecological anatomy on any plane, even if structures are asymmetrical. This eliminates the need to manipulate images and reduces the clinical skill required to complete the process. As a result, the workflow is expedited, and the patient can leave the office confident that the IUD is well-positioned.
IUD insertion can be that easy when you keep it simple. The KISS strategy helps clinicians work more efficiently by leveraging advanced imaging solutions to ensure precise IUD placement. This straightforward approach can help curtail IUD contraceptive failures and — most importantly — strengthen trust between practitioners and patients.