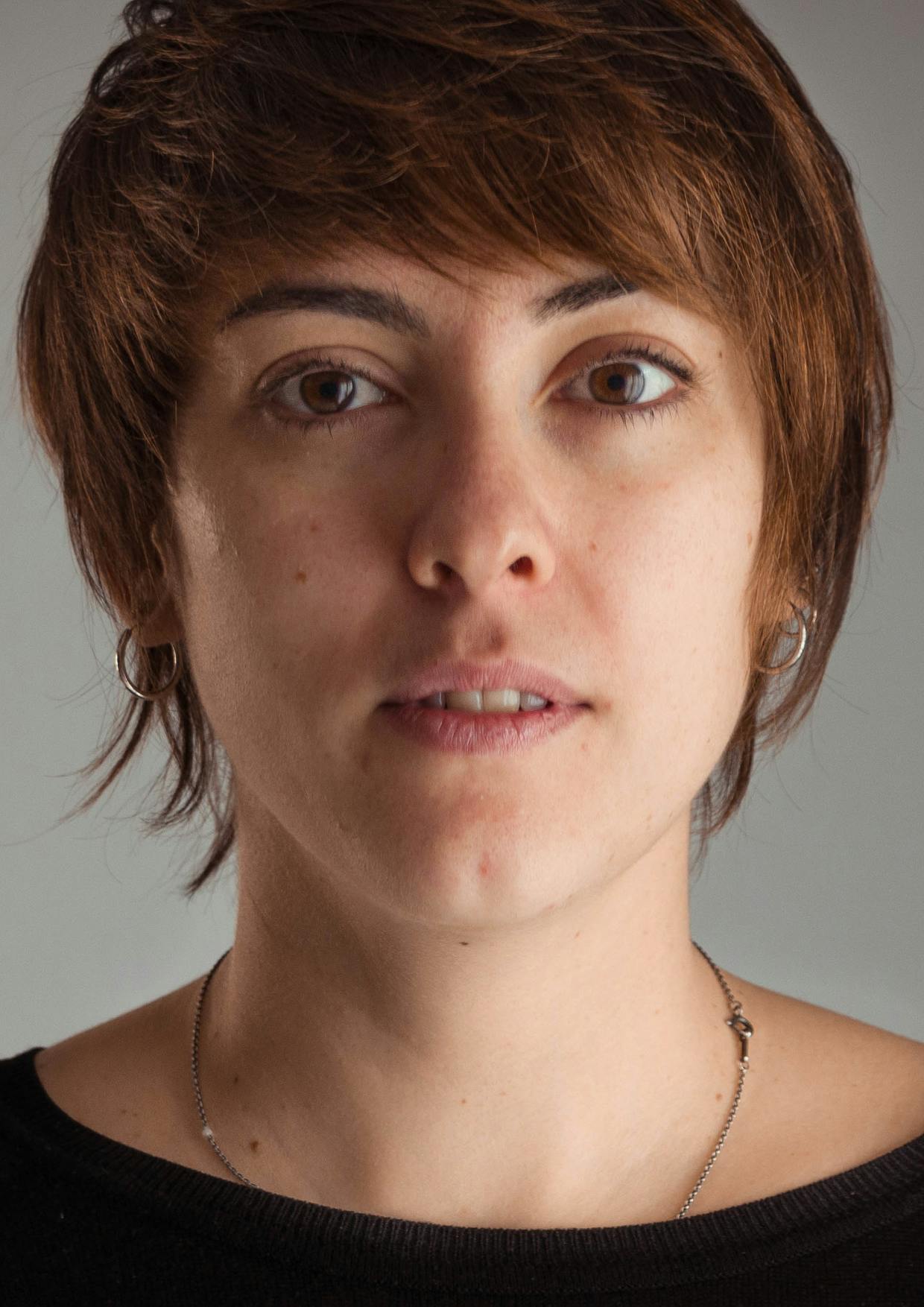 Identifying Uterine Lesions with Ultrasound
How 3D Ultrasound Can Reveal Valuable Information About Infertility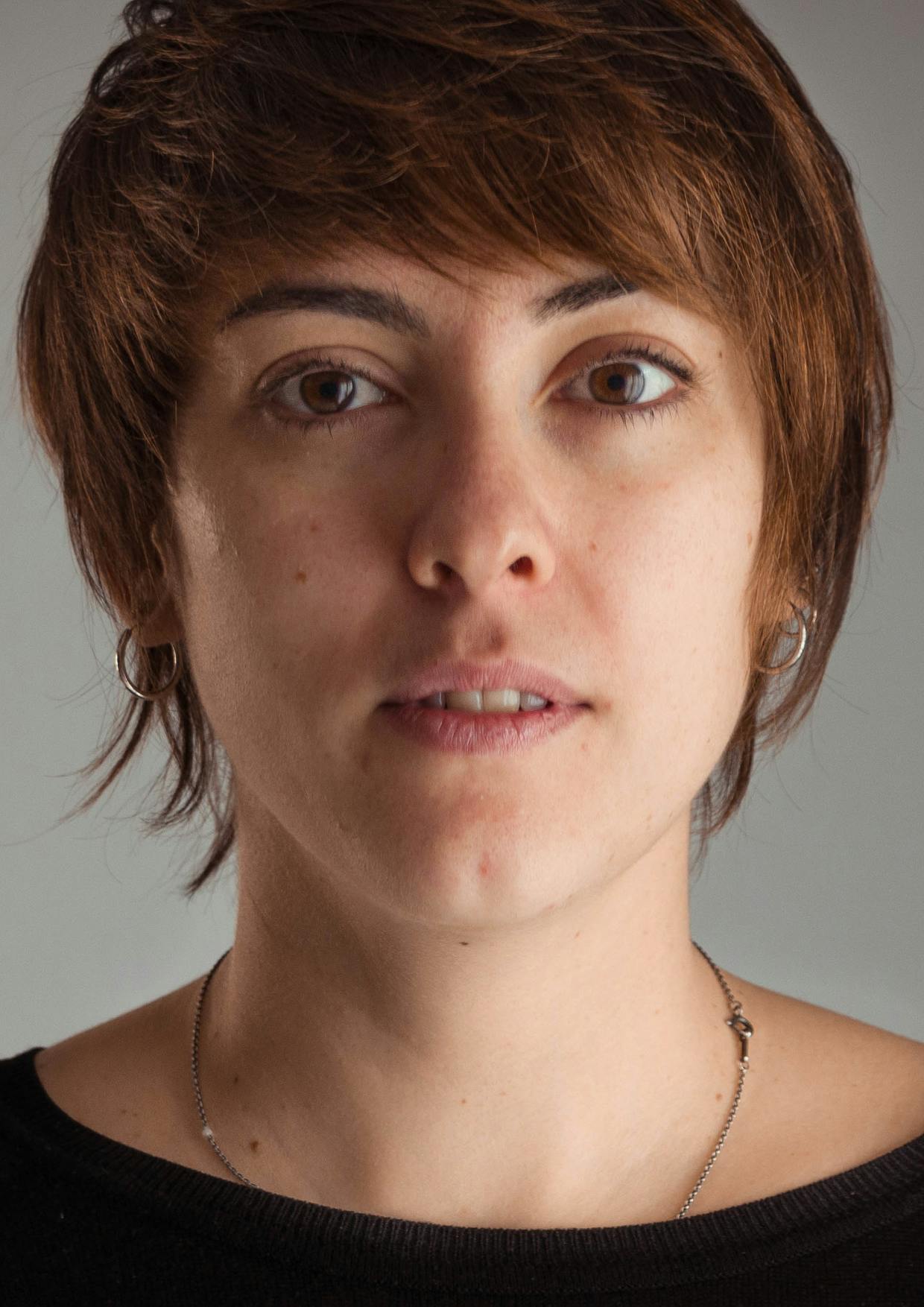 Discover how a 3D ultrasound can reveal invaluable information about infertility, diagnosing critical gynecologic conditions linked to infertility
'I use 3D ultrasound for every single gynecology examination. Without it, I don't think it's a complete examination.'
It's widely available, yet widely underutilized in gynecology. Despite overwhelming research affirming the power of 3D ultrasound, it hasn't been adopted as the 'go to' tool for evaluating women's reproductive anatomy. The idea is to provide a more complete picture of her health—and give her the answers she's looking for.
The main advantage—the ability to acquire and process volume data to obtain views that aren't available with traditional 2D ultrasound. With the advancement of 3D technology, you can go beyond the flat, 2D images of the sagittal and transverse planes to reconstruct the coronal plane, for a more realistic representation of your patient's internal organs and related pathology. This view provides additional diagnostic information for a more complete evaluation—increasing your confidence in critical clinical decisions.


"3D ultrasound can get you to a more accurate diagnosis with less differential diagnostic entities. And it's faster so you can get a timely diagnosis," said renowned gynecologist, Ilan Timor-Tritsch.
According to research, 3D is more sensitive and specific than 2D ultrasound in defining and mapping out uterine lesions that can cause infertility, including adenomyosis and fibroids.1 Studies also show that the sensitivity and specificity of 3D ultrasound is reported to be close to 100 percent for diagnosing congenital uterine anomalies, comparable with those of MRI and laparoscopy.1 ,2, 3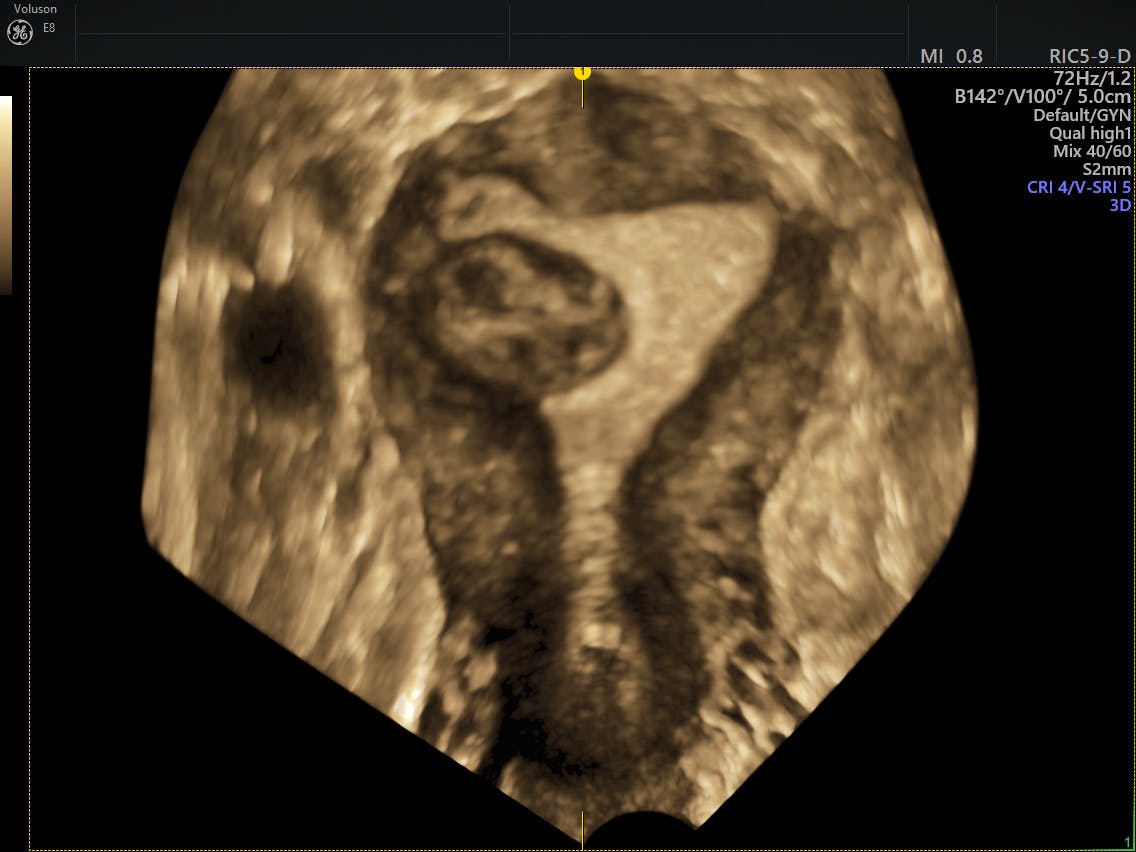 Timor-Tritsch was one of the first physicians in the field to adopt 3D ultrasound and has worked closely with GE Healthcare to enhance its Voluson™ systems. Dr. Timor-Tritsch appreciates many of the features that have been added over the years.
One valuable innovation is Voluson's Advanced VCI (Volume Contrast Imaging) with OmniView. The tool improves contrast resolution and visualization in any image plane, even irregularly shaped structures—making it easier to confirm a presumptive diagnosis.
Clinicians can also take advantage of Voluson's TUI (Tomographic Ultrasound Imaging), which simultaneously displays multiple slices of a volume data set. The ability to systematically step through the endometrium also makes it easier to uncover even the smallest pathologies—such as a small lesion that could affect fertility.
"With 3D, you have the thick slice coronal view of the uterus. We can look at the borders of the endometrium echo. That tells us quite a lot," Timor-Tritsch said.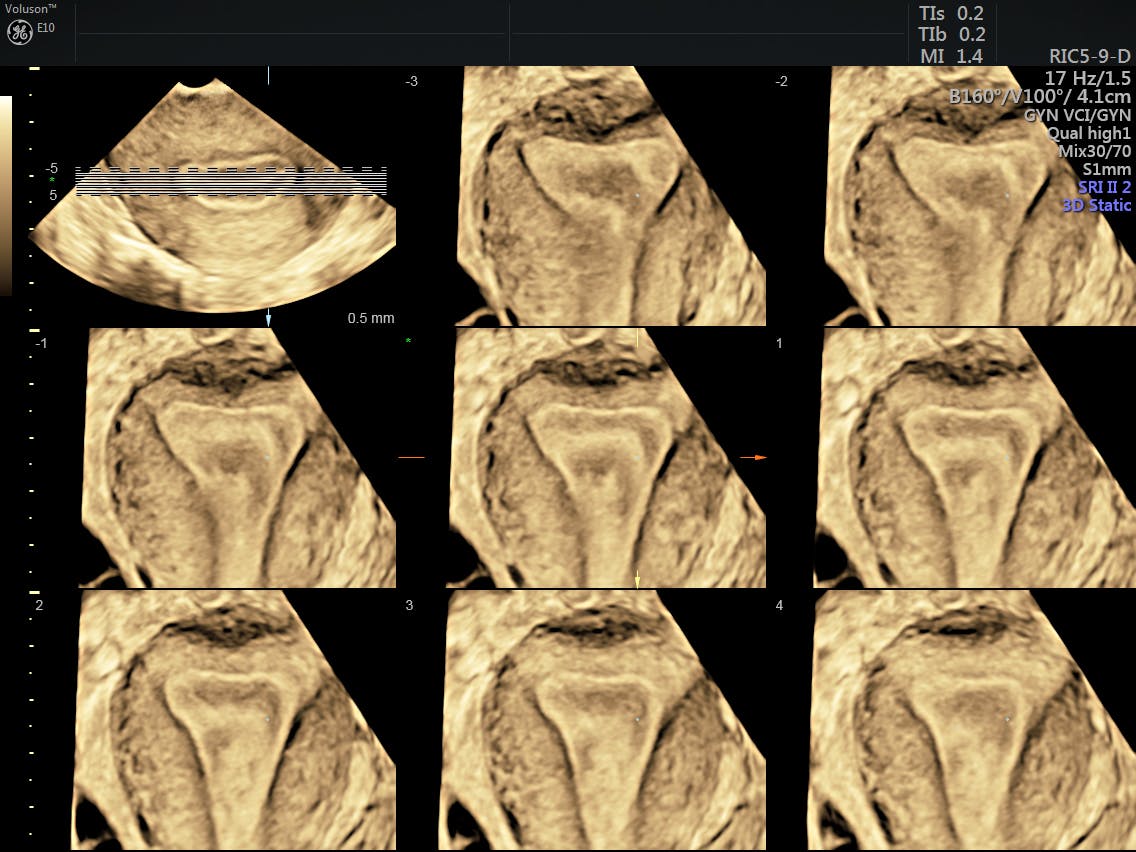 Another Voluson feature, called VOCAL (Virtual Organ Computer-Aided Analysis), enables volume calculations of irregularly shaped and complex anatomic structures, typically found in endometriosis imaging. It also helps differentiate organs that are tethered together—providing a valuable guide for surgeons.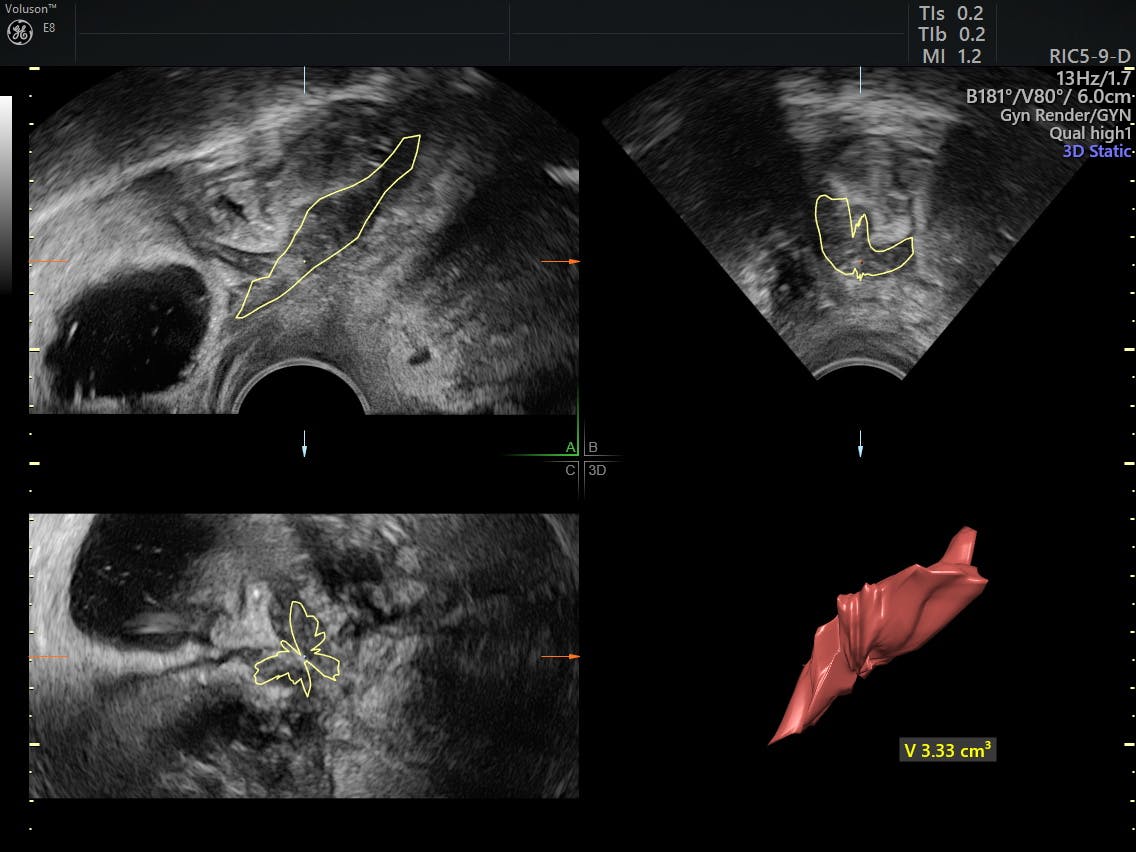 And 3D ultrasound is critical to the IVF process. Gynecologists and fertility specialists can automatically count and measure follicles with SonoAVCfollicle. Accuracy is so important because it allows optimization of the number of eggs that can be retrieved. 3D ultrasound has been shown to increase the exam reproducibility of measurement and evaluation.4,5 It also allows for the standardization of ultrasound exams through the automated multi-planar approach.6,7
Despite all the advantages of 3D ultrasound, many clinicians see the learning curve as a major obstacle and fear it will make them less efficient. But many experts say it's the opposite—and 3D can speed up the process and enhance workflow. Dr. Timor-Tritsch has developed his educational lectures to reinforce that message.
"I show five places 3D ultrasound has shortened my time to diagnosis. And there's no question it can help your confidence. I think it's convincing. I can't predict the future, but I'm hopeful it helps."
Learn more about how the benefits of using 3D ultrasound in gynecology extend to both the patient experience and the clinician's ability to deliver high-quality, reliable care.

Learn the symptoms of a misplaced IUD and how to use 3D ultrasound to more accurately and quickly diagnose a misplaced IUD.

The ability to make a fast, accurate diagnosis is one of the many benefits of 3D ultrasound technology. Read on to find our full list of benefits.

Even some of the most experienced clinicians have trouble evaluating and diagnosing uterine anomalies, but a thorough transvaginal ultrasound is key.

Find out how the accuracy and convenience of 3D ultrasound technology can go a long way toward improving the patient experience in a private practice

3D transvaginal ultrasound can help physicians identify causes of postmenopausal bleeding more accurately, saving patients time and anxiety.

Don't be fooled by presumably innocuous cervical polyps. 3D ultrasound can help gynecologists identify features that could point to a malignancy.

There are many approaches to diagnosing endometrial cancer, but using 3D ultrasound first enables physicians to evaluate results with speed and confidence.

Using 3D ultrasound in pelvic reconstruction is an efficient way to assess pelvic floor disorders prior to and after surgical intervention.

Timely and effective pelvic inflammatory disease diagnosis requires diagnostic images, like 3D ultrasound.
Turkgeldi E., Urman B., Ata B., Role of Three-Dimensional Ultrasound in Gynecology. J Obstet Gynaecol India, 2015 May;65(3):146-154.

Sakhel K., Benson C. B., Platt L. D., Goldstein S. R., Benacerraf, B. R. (2013), Begin with the Basics. Journal of Ultrasound in Medicine, 32: 381-388.

Monini A., Mohammadi S., Hosseini R., Eslami B., Ahmadi F., Accuracy of 3-dimensional sonography for diagnosis and classification of congenital uterine anomalies. J Ultrasound Med. 2013;32(6):923-7.

Deutch TD, Abuhamad AZ, Matson DO, Bocca S, Stadtmaucer LA, OEhniger SC. Clinical evaluation of a novel automated follicular assessment software program in women undergoing controlled ovarian hyperstimulation for in vitro fertilization using three-dimensional sonography. Fertility and Sterility 2007; 88:S80.

Deutch TD, Abuhamad AZ, Matson DO, Bocca S, Stadtmaucer LA, OEhniger SC. Automated calculation of ovarian follicular diameters using three-dimensional sonography in women undergoing in vitro fertilization (IVF): a prospective evaluation of a novel software. Fertility and Sterility 2007; 88:S80.

Benacerraf BR, Shipp TD, Bromley B. Improving the efficiency of gynecologic sonography with 3-dimensional volumes: a pilot study. J Ultrasound Med. 2006;25:165-71.

Abuhamad A. Automated multiplanar imaging: a novel approach to ultrasonography. J Ultrasound 2004;23:573-576.